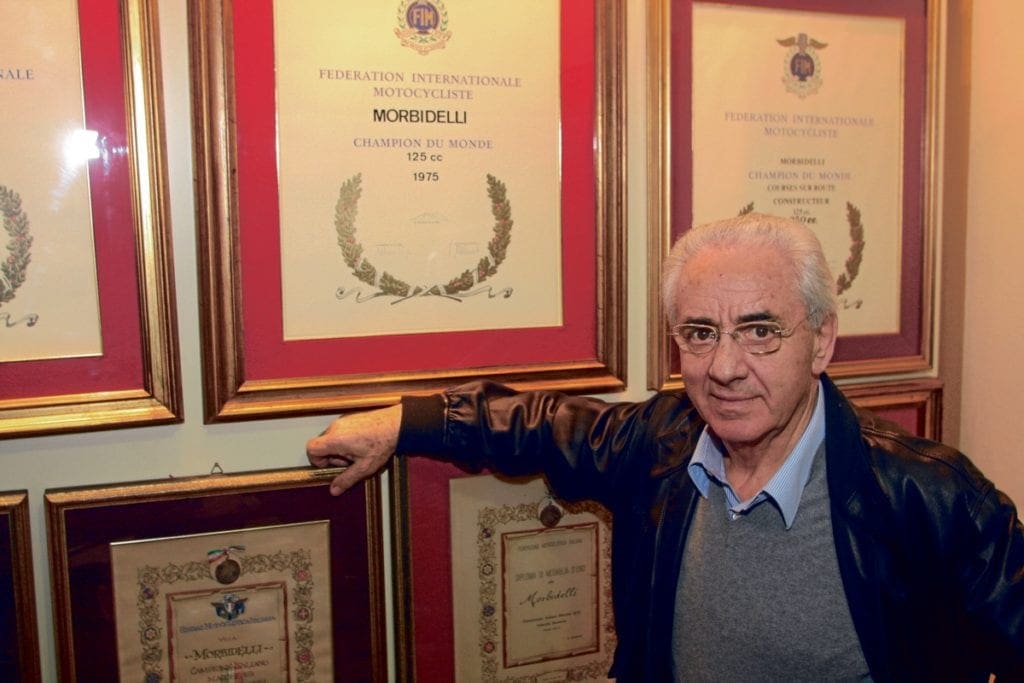 Motorcycle manufacturing legend Giancarlo Morbidelli has died at the age of 86. Here's a look back into Morbidelli's amazing motorcycle and scooter museum featured in Scootering magazine, May 2012.
A tuned Lambretta built by the former owner of a motorcycle Grand Prix team for Italian endurance racing. This had to be worth a look…
The team principal in question is Giancarlo Morbidelli; creator of the eponymous GP team that won four 125cc and 250cc riders' championships during the 1970s.
Giancarlo started the team's career in the 50cc category in the 1960s and worked all the way up to the 500cc class by the end of the 70s. The Grand Prix effort was all financed to promote his range of woodworking machines, and built in the same factory on the Adriatic coast of Italy.
He abandoned motorcycle racing in the early 1980s to concentrate on supporting his son Gianni's career in Karting, Formula 1 and Touring cars.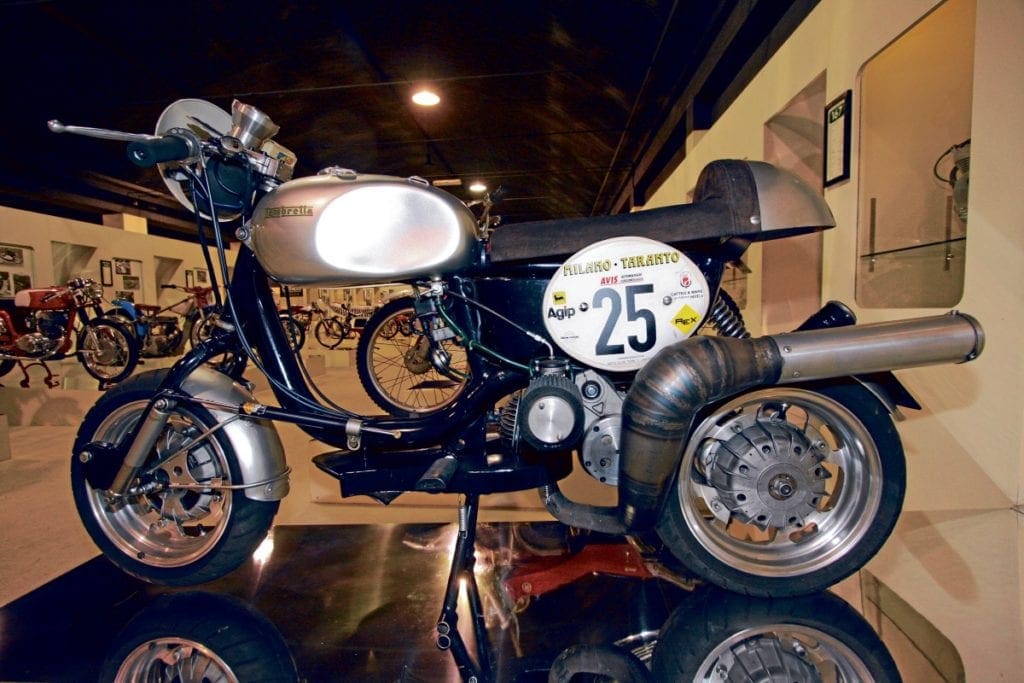 Giancarlo now uses his retirement to indulge his fascination with two wheels again by running a truly outstanding classic motorcycle museum in his former factory at Pesaro.
Giancarlo's collection of over 300 machines – each displayed neatly on a podium – features many small capacity machines.
Without any historic mods/rockers background, Italian motorcyclists hold no prejudice against scooters, and as a result, there are quite a few in the collection. These include an ABC Skootamota, a Lambretta model 8, an Isoscooter and a Benelli S125: an early automatic scooter built locally in Pesaro.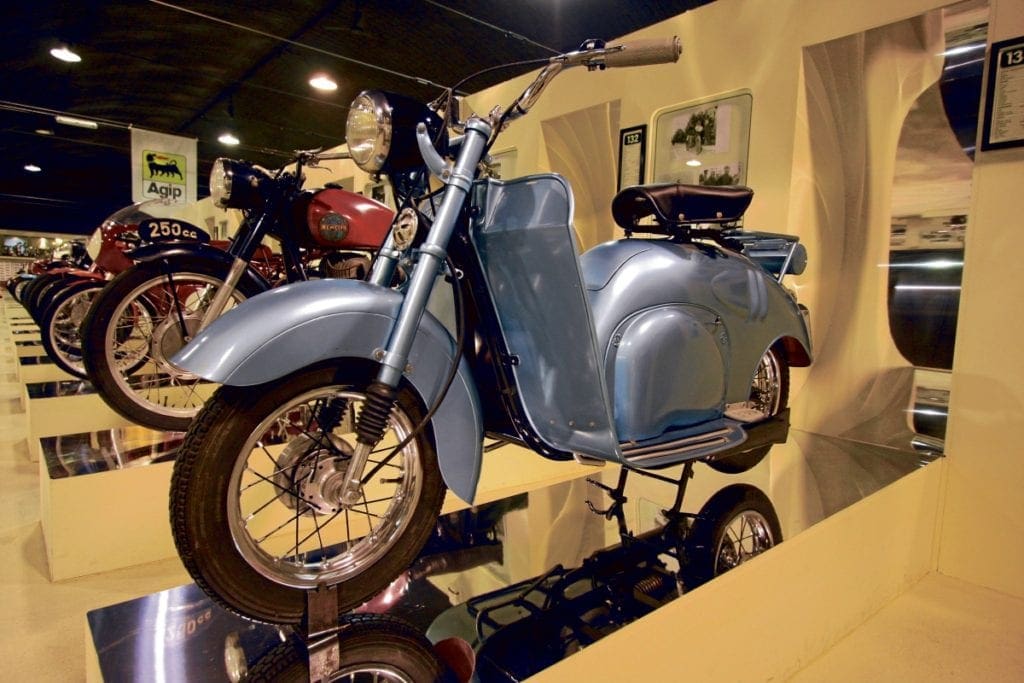 The scooter that caught our eye, however, was far from an unrestored museum piece. During the 1990s Giancarlo got involved in several of the revived classic Italian road races (Mota Giro and Milan-Taranto), taking part on classic bikes from his collection. He also produced the unusual 'special' in the accompanying photos for his friend Gianpiero Findanno to use on one Milan-Taranto event in 1994.
Gianpiero is an off-road motorcyclist of some repute, having previously competed in both Paris-Dakar, Rally of the Pharaohs and many European enduro events.
With typical Italian sensibility, he still uses motorcycles for adventures but prefers the practicality of a scooter for urban work. However, he holds the Lambretta brand in special regard, having first learned to ride on his father's scooter when he was only 10 years old.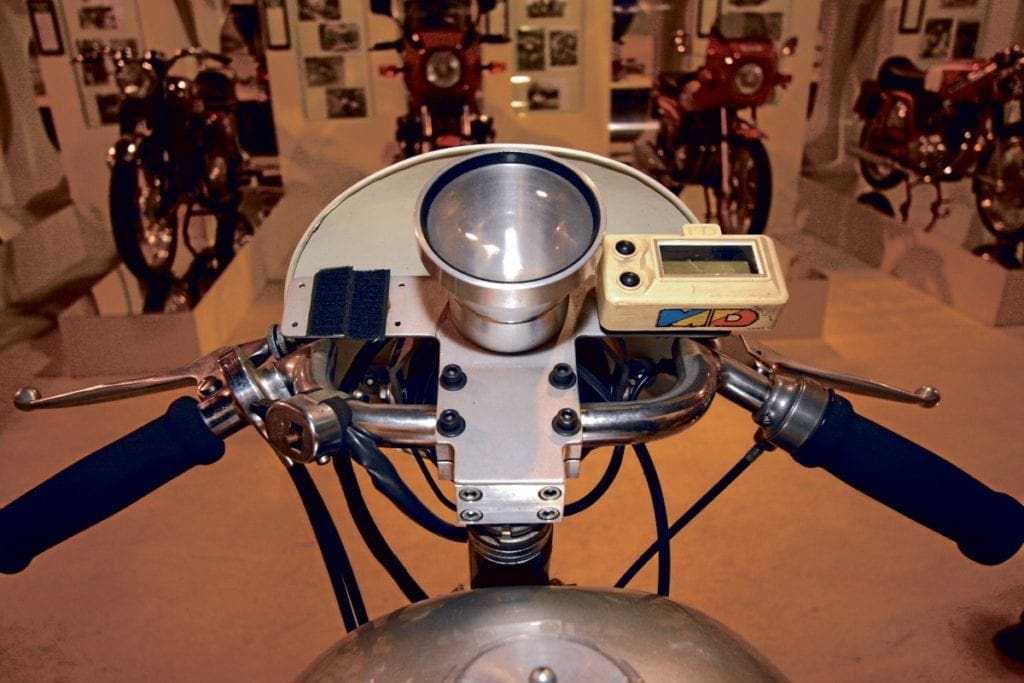 As such, a Lambretta was his unusual first choice when entering a vintage machine in the 125cc class for Milan-­Taranto, and he asked Giancarlo to prepare it because: "Morbidelli is a mechanical genius."
The event in question was run that year by Mato Club Terni (one of a several organisations which have run the 'Mi-Ta' event) and covered 1515km from northern to southern Italy in five days. There were 12 other competitors in the 125cc motorcycle class, all riding historic Italian brands such as Morini, Rumifnd Benelli.
The donor scooter was once a 1959 LI 125 but it has been treated to something of a cafe racer make-over.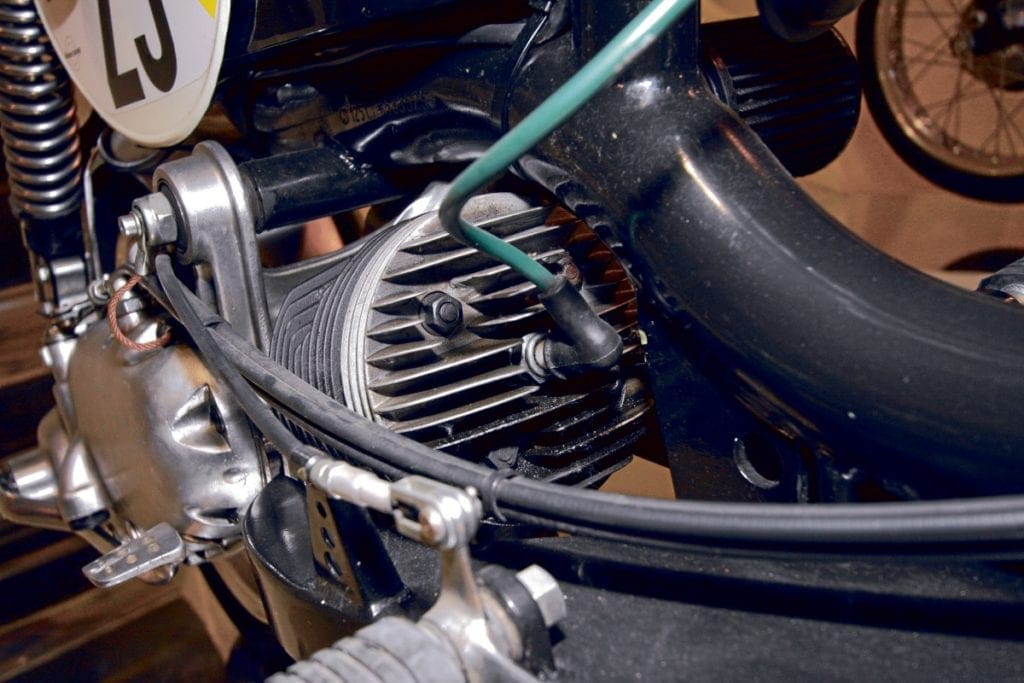 The modifications are interesting because they are clearly designed to improve a scooter, very much from a motorcyclist's perspective. The first thing that bikers always complain about are a scooter's little wheels, but on this Lambretta, the tyre size has been increased to 13in by the creation of custom-made tubeless wheels that bolt on to standard Lambretta hubs.
In actual fact, the rolling radius of a low-profile 130/60-13in wheel will only give a tyre diameter of approx 48.6cm compared with approx 43.2cm. As such this wheel size will fit inside a Lambretta fork without modification, and also inside the engine casing if you lose the bump stop.
In order to accommodate such a wide rear tyre, the entire engine has been offset to the kick-start side. Tyres fitted to the scooter are Michelin Sls, which were a very good road tyre for the day.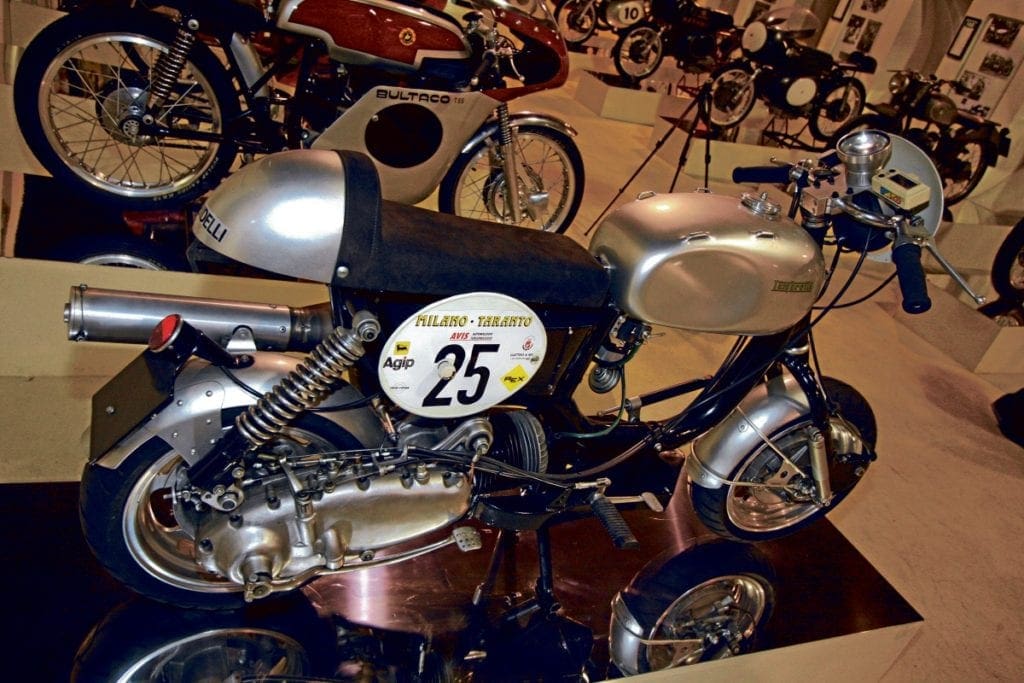 Conventional Lambretta 200 forks are used, together with an adjustable steering damper on the right-hand side. At the rear, a softer, non-Lambretta shock by GCB with an offset lower mounting is fitted. With so much distance to travel on a narrow seat unit (custom made for the job) I'd be looking for a softer shock too!
According to the supplied specification, the motor is still 125cc, but obviously with some tuning given the quoted top speed of 145kph (90 mph). It is fitted with a 30mm Dellorto PN carb and a specially­made high-level expansion chamber.
One interesting modification is the abandonment of the original flywheel and its replacement with motorcycle-style electronic ignition. Removing the drag of a fan allows more of the power produced by the motor to get to the rear wheel, but leaves the barrel to be cooled by ambient air-flow. This is assisted by what looks like floor boards, but are actually hollow channels on each side of the frame tube designed to channel air on to the hot (exhaust) side of the cylinder.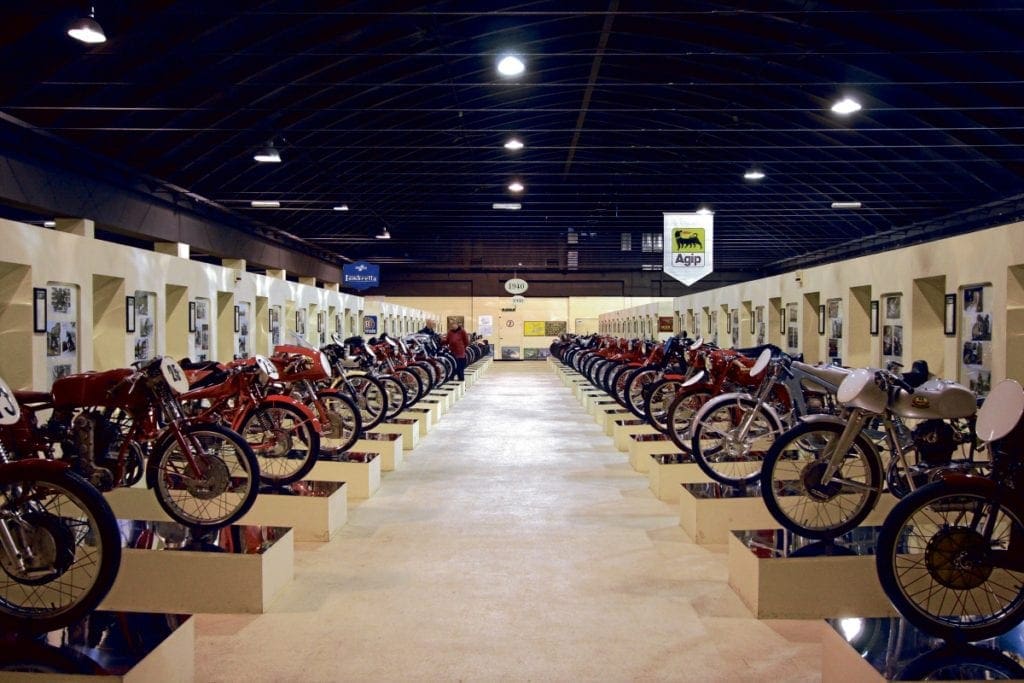 Further classic motorcycle-style features are included in the centre-tank, dropped handlebars and rear-set footpegs. Given the navigational element of the competition, the handlebars feature both a modern digital speedo and a large magnifying glass to aid timekeeping while riding.
In the end, Findanno won not only the 125cc motorcycle class on this scooter but also the whole event. Given the level of machine preparation and the pedigree of the rider perhaps a Lambretta victory was not as unlikely as it first seemed.
Thanks to: Giancarlo Morbidelli, Gianpiero Findanno plus Alessandro and Walter Magrini for help with this article.
Rest in peace, Giancarlo Morbidelli.
Enjoy more Scootering reading in the monthly magazine. Click here to subscribe.


Comments
comments